Orientation in Chaos – ACOD Congress 2022
---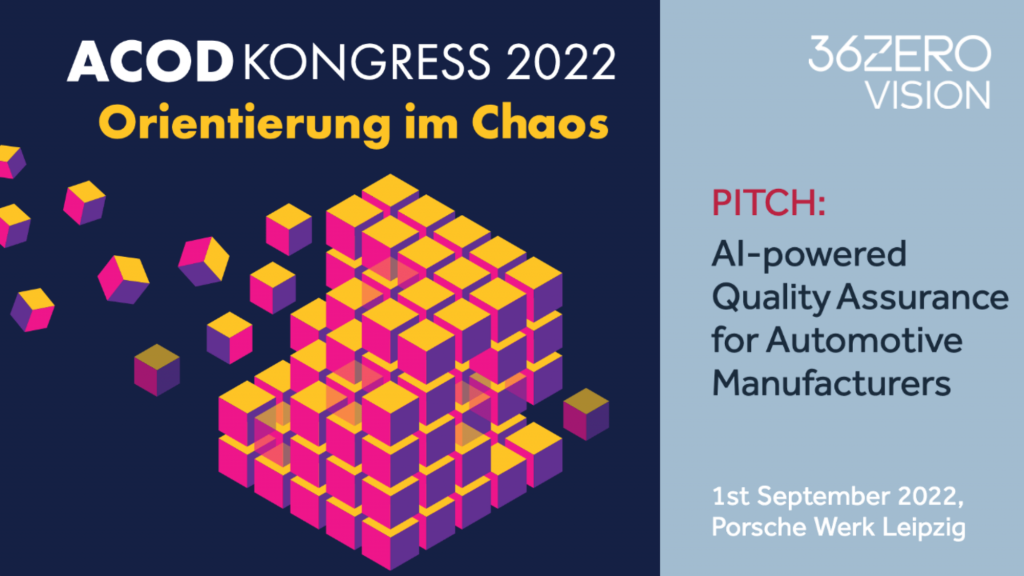 36ZERO Vision has close partnership with German automotive manufacturers and suppliers. The challenges and opportunities in the automotive market engage our company and motivate us to develop more innovative solutions. This year's automotive congress ACOD brings us into close exchange with the most important stakeholders in the German automotive industry.
Save the date: 1st September 2022, Porsche Werk Leipzig
The main topic of ACOD Congress 2022 is "Orientation in Chaos". The discussions at the congress mainly concern the developments in the automotive industry in relation to the pandemic, climate change, supply bottlenecks and the shortage of raw materials. New solutions are urgently needed to drive the successful and sustainable development of the automotive sector.
At the Start-Up Pitch, young companies present their innovations and solutions. Tangible impulses for the future?! 36ZERO Vision, our AI-software solution for quality assurance will also be pitched in front of all the visitors and participants.
Automated quality assurance in the automotive industry can definitely bring order in this unstable situation. In the pitch session, the CEO of 36ZERO Vision Florian Ziesche will explain how our QA solution improves the manufacturing process. An important point considering the climate change and environmental footprint of manufacturers, a crucial point is also contribution to sustainability. Due to automated QA, automotive manufacturers have a significant decrease in recalls and waste rate.
The pitch is organized with the support of the business consulting company AnAttitude and entrepreneurial community UnternehmerTUM.
You can read more about the concept and the program of the congress here: https://www.acod.de/leistung/kongress